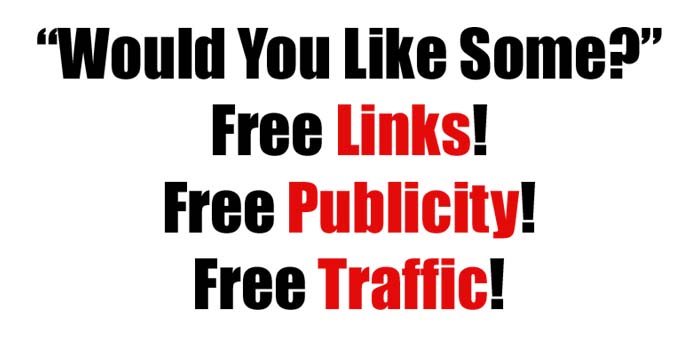 You do want free publicity, free white hat links and free traffic for your website; right?
Then today is your lucky day……
For a limited time only (to be determined) I am literally giving away publicity for USA & Canada based businesses of all types and sizes.   You are eligible for this free publicity even if you are running a one person business out of your home office.
I am launching a new content marketing project to promote websites.  The goal of this content marketing project is to get your business in front of warm prospects (what I call stage 3 prospects).   These are potential customers of yours who are starting to look for answers to questions they have about your industry and seeking information about businesses in your industry.  These prospects are getting close to making a buying decision.  They are getting warmer and warmer in their decision making process.  This is when you really want to introduce yourself to them.  This is when you can really influence them, get them to come to your website and persuade them to become customers.
This form of content marketing works for any industry that I can think of.  I have not yet come across a situation where this form of content marketing will not work.   So, no matter what type of business you are in, this applies to you.
Here is what you get if you take part in this offer:
1)      Your website will get traffic from new people who are much more likely to become your customers.
2)      Your website will earn natural links from relevant places on the internet.  The websites you earn links from are authoritative websites.  These are the kinds of links that Google loves.  Yes they are earned naturally.  No you cannot control your anchor text.  They would not be completely natural links if you could control your anchor text.
3)      Your website will get publicity on other websites and web pages that are related to your industry.
4)      This traffic and publicity will come over a period of months and even years.
Results will vary for every person who participates.   Although I expect positive results for every person who participates including you, there will be absolutely no guarantee of positive results.  Remember, this is totally free to you and everyone else who participates.   There are no hidden agendas.  This is not part of any hidden up-sell tactic.  I am honestly giving you free publicity.
Here is how it works….
The only thing I need from you is for you to set aside time for me to interview you.   This will be a recorded telephone interview where I ask you specific questions about your business, your website and your industry.  This is a friendly interview.
You may decline answering any question you don't want to answer or don't feel like you can answer adequately.  I have not had this happen yet as the questions are really basic ones that you will have no trouble answering.  The entire interview is completely relaxing and non-stressful.  I want you to be totally relaxed and mentally sharp so you can give me the deepest insights possible into your industry.  I will give you a list of the questions ahead of time so you are ready to answer them.
The information you provide in the interview is going to be used to generate additional content for my existing content marketing campaigns and also future ones.
That content gets distributed out as needed onto various websites to help solve problems and answer questions for people who are potential customers of yours.  When your information is used, you get credited for it in one way or another.  Sometimes your name is mentioned.  Sometimes your business is mentioned.  Sometimes your business gets linked to.  Sometimes all of the above happen.
This happens over a period of time according to how much demand there is for certain types of information.  It is the best form of publicity a business owner can get.  It is free and it gets new people to come visit your website who are potential customers of yours.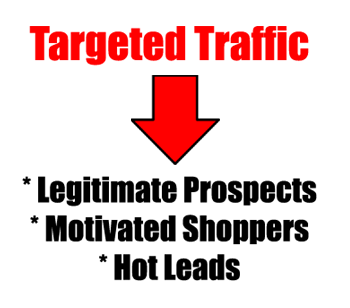 Remember I am conducting this promotion for a limited time only based on how quickly the demand for this content gets satisfied.
So, if you want this awesome free publicity for your business, get it while you still can.   This offer will be taken down at some point without any advanced warning.
Remember this is for USA & Canada based businesses only right now.  If you want to participate, call my office voicemail (716) 262-2500 and leave me your name, telephone number with area code and the best time to call.  I am in Eastern Standard Time (New York Time).  I will call you back and answer any questions before we proceed from there.   Or else you can email me – thad -at- thewebsitepromoter.com.   If you send an email about this offer, please be specific and ask about this free publicity.  Otherwise I won't know what your email is in regards to.
****IMPORTANT NOTE**** This is a delayed results tactic.  This is not going to cause a traffic explosion to your website in the immediate future.  This is not intended to cause a massive ranking boost for your website either.  You will see the effects of this promotion slowly over the course of months and years.  Do not expect this to cause a substantial increase in your business within a few months.   Results will vary from person to person.
And it's free.  Why wouldn't you want to do it?  It doesn't matter what type of business you are in.   I should be able to accommodate pretty much any type of business.  Call me right now while you are thinking about it.
****Additional Note: This free website promotion offer has a normal retail value ranging between $158 – $500.