Take some advice from a professional website promoter about how to solve your problem.

Promoting your website to generate publicity, links and ultimately traffic is part of the equation for building a successful and profitable website.   Your problem probably goes deeper than just generating traffic for your website though. There is much more to it.
Let me explain…..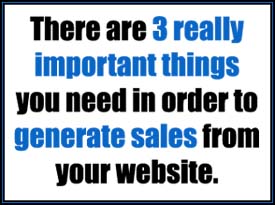 There are three really important things you need for your website in order to make sales with it no matter what line of business you are in and no matter what kinds of products or services you sell.   Those three things are: a willing prospect, a compelling offer and visitor trust.   Am I right?  Just think about it.
You have to start out by getting the right kinds of people to come to your website.  You don't just want website traffic.  In fact you don't just want targeted website traffic.  You actually want targeted website traffic that is ready, willing and able to make a purchase.
There is a difference.  Isn't there?
Most website owners are focused on generating traffic for their website from wherever they can get it.  Are you guilty of doing that?  You want more website traffic because you know you can't make sales unless you have people to sell to.
But, the problem is that the average person surfing around on the internet out there isn't interested in what you sell.  Getting them to come to your site won't do you any good.
In your case there is a very specific audience out there who is interested in what you sell.   Those people in that very specific audience are the people you need to get coming to your site.  Actually you want to take it a step farther than that.
Not only do you want to get traffic from people who are interested in your product, but those people should be willing to buy from you if the right situation presents itself.  You want traffic from "Willing Prospects".
Once you have those willing prospects coming to your site, then it is your job as a business owner to present them with an attractive offer to purchase something.   If the offer isn't attractive enough, then they probably won't buy.  You already know that.
If you have presented the right person with the right offer, then there is only one last thing you need to do.  And that is – Don't screw up the sale.  Internet shoppers are a fickle bunch.  Give them a reason not to do business with you and you lose the sale.  You must find ways to build up their trust in you and keep it.  You will lose the sale if you lose their trust.
If you have the right people coming to your website (highly targeted willing prospects), you are offering them products they want at the right value and you appear to be very trustworthy, then a substantial percentage of those people are going to buy what you are selling.  That is how eCommerce works.
What Areas On Your Site Need The Most Help?
No doubt there is at least one of those areas that you need help with on your website.  You either need help bringing the right people in, presenting them with the right offer or else you need help saving sales that you are losing because something on your site is causing you to lose the sale.  You might need help with all three of those areas.
Let's start at square one.  Shall we?  First things first….
The first thing you need is traffic from the people who are most likely to do business with you.  There is more than one way to get that traffic.  You can use paid advertising to immediately target high converting, high volume keywords.  You can use search engine optimization to get your site ranked at the top of Google for buying keywords.   You can target long tail high value keywords by adding a blog to your website.  You could use one or more forms of content marketing to distribute content to other places where that target audience already exists.
Just find the method that fits your situation and style the best.  Then get started.